Welcome to the Wasteland!
The Wasteland—an unforgiving and desolate place that just so happens to be one of the last bastions of life left on Earth. Ari is a teenage scavenger scraping by until she stumbles across a priceless, malfunctioning AI from the Old World. Now, with every gang from the Cactus Clan to the rogue bandits Jaws the Rock-Eater and Boom, and even the elusive Night Rider hunting her down, Ari has to band together with old allies to unlock the secrets of the past...if she can stay alive long enough.
Join us for this exciting YA Post-Apocalyptic Solarpunk Adventure!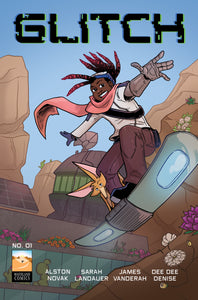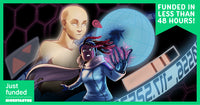 GLITCH #2 Funded in 48 Hrs on Kickstarter!
GLITCH returns to Kickstarter for Issue #2! Support the printing of this issue and snag your own copy during our campaign between September 12th and October 12th. We've already fully funded (in the first 48 hours, wow!) so now we're unlocking stretch goals! Plus, we still have plenty of our super limited edition variant metal prints available in our Collector Tier!
Support GLITCH #2 on Kickstarter now!
GLITCH #1 Made CBR's 10 Best Indie Titles At LA Comic Con 2022!
We debuted GLITCH #1 in print at Los Angeles Comic Con 2022 and the response was phenomenal! Our comic made it to #7 on CBR's list of 10 Best Indie Titles at LA Comic Con 2022 and we couldn't be more honored and excited to be featured alongside such incredible comics and creators.
10 Best Indie Titles At LA Comic Con 2022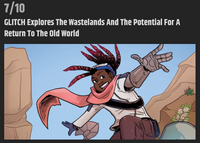 GLITCH #1: A YA Post-Apocalyptic Solarpunk Comic - FUNDED IN LESS THAN AN HOUR!
You can read GLITCH #1 digitally right now, but thanks to all of our awesome backers on Kickstarter, a print edition (plus lots of new merch) is on the way! We'll have stock to sell at our future convention appearances, so keep an eye out on where to find us to get your hands on your very own physical copy of GLITCH #1!
GLITCH #1 on Kickstarter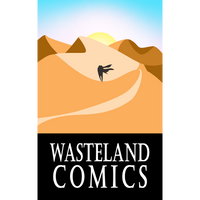 Vast Worlds, Dynamic Characters, and a Sense of Adventure
So, what exactly is Wasteland Comics? We're so glad you asked!
We're an independent comics publisher based in Los Angeles and run by a few pretty awesome people (if we do say so ourselves). We love storytelling, creating vast worlds, and bringing dynamic characters to life—but on top of all that, we love getting to highlight environmental issues and support the LGBTQIA+ community and people of color through representation in stories for audiences of all ages. So come join us on our adventures; we promise you'll have an absolute blast!
Want to know more about the team bringing these expansive and diverse worlds to life? Then come meet Team GLITCH!
Meet Team Glitch
Bringing Fun to a Desolate Landscape
The vast Wasteland in GLITCH could be considered a character all on its own, with its harsh, desolate landscape littered with Old World technology and its communities running on renewable energy. But it's also bursting with colorful actual characters who breathe new life into the typically bleak post-apocalyptic genre by providing refreshing levity and hope even in the most dire of circumstances.
From lone scavengers delving into Old World ruins to survive, to malicious bandit clans ready to take what they need at any cost, to sprawling pockets of civilization led by powerful and charismatic leaders, there are plenty of characters and factions to fall in love with, hate with a burning passion, and everything in between!
Read GLITCH #1 now